Meet your Alpine Massage Therapist
Julie Rogers is fully trained and qualified in the therapies listed below, and has been practising massage for 13 years. She has been a member of The Federation of Holistic Therapists (FHT) since 1999.
About Julie & Alpine Massage
Julie is originally from Cheshire, UK, where she qualified in massage therapy and gained her first years of experience in a luxurious spa hotel. She studied many different disciplines over a 5 year period, specialising in several therapies during that time.
The mountains then began calling and in 2005 Julie decided to take a sabbatical for the winter season, to head to Chamonix and learn to ski. Along the way, she picked up some private clients in the valley and was soon alternating between improving her skiing and building up Alpine Massage.
Mobile Massage Chamonix
Like so many members of Chamonix's international community, Julie fell in love with this unique region, and as her massage business began to take off, she decided to make Chamonix her home. Working in mobile massage Chamonix has since brought Julie new skills including sports massage and Thai massage.
Julie particularly likes the diversity of the people that she gets to meet and what Chamonix has to offer, with a great social scene and neighbouring ski areas which she loves to explore. She is also a keen member of the local classes for modern jive and salsa dancing.
Top tip: Julie's favourite ski areas in the region are Les Houches (Chamonix valley), St Gervais and Combloux (included on Chamonix's Mont Blanc Unlimited lift pass), and Morzine.
The Federation of Holistic Therapists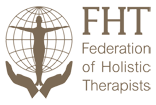 The FHT is the largest Association in the UK representing over 20,000 professional therapists. Founded in 1962, the FHT sets industry standards, ensuring best practice for Therapists and their clients. The Federation is made up of special interest groups and Julie is a Member of the International Council of Health, Fitness & Sports Therapists and a Member of the International Council of Holistic Therapists.